Who doesn't love a great barbecue? Bon Vivant premium barbeque sauces are unique flavour sensations made from only the highest quality ingredients that will make anyone's barbecue a huge success.
Bored with the run-of-the-mill sauces that were currently available, Damian and James, two long-time friends, decided to get into the barbecue sauce business. This was made much easier by the fact that Damian was already a chef with years of experience, having garnered numerous accolades and culinary awards locally and internationally. James, who had previous business experience, was working on his Masters in Health Services. Driven by his love of good food, James convinced Damian that this sauce needed to be bottled and marketed so everyone would have the opportunity to enjoy it.
As they tell the story:
Our goal was to make a BBQ sauce that was unlike anything else on the market. We believe we achieved that goal with the introduction of our first three flavours, Citrus, Caribbean, and Korean Barbecue Glaze. These flavours were inspired by years of traveling and tasting with numerous trials to get the sauces just right. We use only premium ingredients, whether Canadian products or those imported from across the globe. Our Korean Barbecue Glaze, for example, uses only top quality ingredients imported directly from Japan and Korea.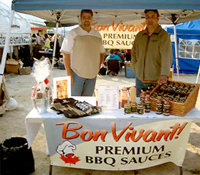 It has been an exciting entrepreneurial experience since our start in 2005, with our first bottle sold at the St. Norbert Farmers' Market in the summer of 2006. We weren't quite sure how sales would go, but were pleasantly surprised when they exceeded all our expectations. We had amazing feedback, and many people came back for multiple bottles — even cases — to give to family and friends! Over the next eight months, we had a full nutritional analysis completed. When compared to our leading competitors (who shall remain nameless), we have less calories, sugar, carbohydrates, and sodium per serving.
Since that time, we have expanded our product line, and our sauces are now sold or used in two dozen stores or restaurants in Winnipeg. We offer both retail and food service sizes and are eager to accommodate any order.